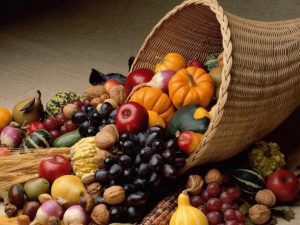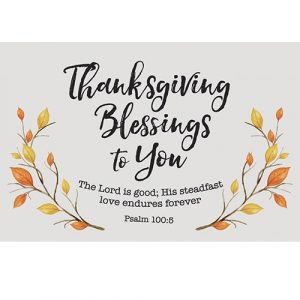 A Thanksgiving Message from Fr. Dominic
Join us for livestream Thanksgiving mass this weekend, starting Saturday 5:00pm and available thereafter to watch at a time that works for you and your family. Please find it from this link.
I
t's amazing how God finds ways of speaking to us, in a manner and with a message that fits, if we just look for it.  On this Thanksgiving weekend, across the nation of Canada, we take a moment to acknowledge that all we have is gift.  On this same weekend in the life of the Church we are given a message in our Sunday Mass readings that remind us of the profound desire our Lord has for us to enjoy his company in the context of a rich feast like a wedding banquet.     He is the Host and we are invited into a life-giving, saving fellowship of joy and abundance – in a word, we are invited into his Kingdom.  In that Kingdom all needs are satisfied.  All grief, even the shroud of death, is overcome with light, with celebration, with communion.   Wow!   Only a God who loves us tremendously whole-heartedly, would ever speak to us in this manner.  
When we get so immersed in our daily struggles, when the immediate horizon looks bleak and uncertain, when we want to cry out, "How long O Lord, how long?" let's take this weekend to step back in faith and reflect on this invitation that God holds out to us.  Even though our gatherings may be smaller this Thanksgiving, let's take a moment in faith and remember all that the Lord has given us, all that the Lord promises us.  If you can, read aloud any of the Sunday Mass readings, whether it be the first reading from Isaiah (
25.6-10a
), the Psalm (23), St. Paul's letter to the Philippians (
4.12-14
, 19-20), or Matthew's gospel (22.1-14).   What an incredibly generous God we have who yearns to come near to us and love us.
On behalf of our pastoral team, I want to wish each of you a very blessed Thanksgiving weekend. I also want to raise a prayer of gratitude and praise to God for all with what He has blessed us and to end with a quote from St. Paul found in the second reading this Sunday: My God will satisfy every need of yours according to the riches in glory in Christ Jesus.  To our God and Father be glory forever and ever. Amen. (Phil 4.20)
In Christ,
Fr. Dominic
Pastor, St. Patrick's Parish, Markham
Our mission is to bring God's love into the world through a life-changing friendship with Jesus.